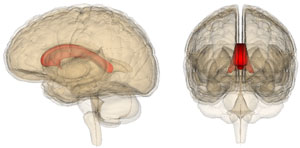 The brain consists of two hemispheres, but how are they different functionally? What are their differences in development and in aging? How are they affected in brain disease? It turns out that some most entrenched preconceptions about hemispheric specialization are incorrect. In this workshop we will review some of the recent discoveries about, and insights into, the nature of hemispheric differences. Elkhonon Goldberg has studied hemispheric specialization for many years and has written about his work on the subject in The Wisdom Paradox: How Your Mind Can Grow Stronger As Your Brain Grows Older, Gotham Books, Penguin, 2006; and The New Executive Brain: Frontal Lobes in a Complex World. Oxford University Press, 2009.
Learning objectives. This workshop is designed to help you:
1)    Describe biological differences between the cerebral hemispheres: morphology, connectivity, and biochemistry.
2)    Describe hemispheric differences in other species and what it means for understanding our own brain
3)    Describe sex differences in hemispheric specialization: How is hemispheric laterality different in females and males
4)    Describe the relationship between hemispheric differences and handedness: How are the left-handers wired?
5)    Explain the limitations of the traditional paradigm: Left-hemispheric language and right-hemispheric spatial processing? Not so simple
6)    Review new ideas about hemispheric specialization: fads and facts.
7)    Explain the roles of the two hemispheres in learning: the role of the right hemisphere in dealing with cognitive novelty and of the left hemisphere in maintaining well-formed knowledge
8)    Explain the relationship between the hemispheres and neuroplasticity: why hemispheres develop and age at different rates.
9)    Describe disorders targeting he fragile left hemisphere: schizophrenia;  fronto-temporal dementia.
10)   Describe disorders targeting the right hemisphere: non-verbal learning disabilities; hemineglect.
11)    Describe the role of the two hemispheres in emotional control.
Continuing education for mental health professionals: Eight (8) CEs are being offered for this workshop.
About the speaker: 
Elkhonon Goldberg, Ph.D., ABPP, is a world-renowned neuropsychologist and cognitive neuroscientist. His books The Executive Brain, The Wisdom Paradox, and The New Executive Brain have been translated into many languages and have met with international acclaim. Goldberg's scientific contributions helped advance our understanding of the function and dysfunction of the frontal lobes, memory, hemispheric specialization, as well as the general principles of functional cortical organization. Goldberg is also a practicing neuropsychologist with many years of wide-ranging clinical experience, as well as a sought-after educator who lectures worldwide. Elkhonon Goldberg was a student and close associate of the great neuropsychologist Alexandr Luria. He considers it an honor to continue and advance Luria's scientific legacy and clinical tradition.
Elkhonon Goldberg has studied hemispheric specialization for many years. His "novelty-routinization" theory of hemispheric specialization has played an important role in understanding normal and abnormal aspects of cognitive development and aging. He has co-authored innovative experimental and clinical paradigms which have been used to study the effects of lateralized frontal lesions, profiles of cognitive impairment in parkinson's disease and other conditions.
In this workshop, Dr. Goldberg will review some of his own work, as well as that of other leading neuropsychologists and neuroscientists.
Time: 8:00am – 6:00pm
Place: Park Lane Hotel, 36 Central Park South, New York
About the venue: Park Lane Hotel is located in the heart of Manhattan overlooking Central Park. It is a short walking distance from Carnegie Hall, Broadway, Museum of Modern Art, and some of the best restaurants in New York. It is easily accessible by public transportation and by car with ample garage space next to the hotel.
Fee: $195.00
Please leave your contact information and we will let you know when the workshop is available.