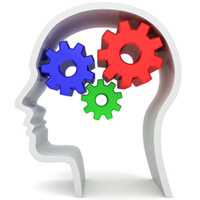 The notion of "executive functions" is gaining popularity among clinicians and educators, but using a term (or a concept) is not the same as understanding it. The aim of this workshop is to impart a clear understanding of "executive functions," their relationship to the frontal lobes, and of the numerous ways in which they may become impaired across a wide range of neurodevelopmental, neurological, psychiatric, and aging-related disorders. The frontal lobes, their function and dysfunction are among the "hottest" topics in neuroscience and neuropsychology today ans we will review some of the cutting-edge research on the subject. Elkhonon Goldberg, Ph.D., ABPP has studied the function and dysfunction for many years. He is the author of The Executive Brain: Frontal Lobes and the Civilized Mind, Oxford University Press, 2001; and of The New Executive Brain: Frontal Lobes in a Complex World, Oxford University Press, 2009.
Learning objectives. This workshop is designed to help you:
1)     Describe components of executive functions: Goal formation, planning, foresight, cognitive selectivity and flexibility, "theory of mind," self-monitoring, impulse control, and working memory.
2)     List brain mechanisms of executive functions: Prefrontal cortex, anterior cingulate cortex, striatum, related structures and their subdivisions.
3)     Describe executive function and dysfunction in development. Executive dysfunction and ADHD – same or different? Where do they overlap and where do they diverge?
4)     Describe executive dysfunction in aging and dementias: Alzheimer's, Lewy body, Fronto-temporal and others.
5)     Describe executive dysfunction in Traumatic Brain Injury: "mild" TBI is not so mild.
6)     Describe executive dysfunction in neuropsychiatric disorders: schizophrenia, affective disorders, Tourette's syndrome and OCD.
7)     Analyze the role of executive functions in society: Frontal-lobe maturation and social maturity.
8)     Analyze the relationship between executive dysfunction and the law: The "criminal" brain.
9)     Describe diagnosis of executive dysfunction: neuropsychological tools and clinical observations.
Continuing education for mental health professionals: Eight (8) CEs are being offered for this workshop.
About the speaker:
Elkhonon Goldberg, Ph.D., ABPP is a world-renowned neuropsychologist and cognitive neuroscientist. His books The Executive Brain, The Wisdom Paradox, and The New Executive Brain have been translated into many languages and have met with international acclaim. Goldberg's scientific contributions helped advance our understanding of the function and dysfunction of the frontal lobes, memory, hemispheric specialization, as well as the general principles of functional cortical organization. Goldberg is also a practicing neuropsychologist with many years of wide-ranging clinical experience, as well as a sought-after educator who lectures worldwide.
Elkhonon Goldberg's lifelong interest in the frontal lobes was seeded by his mentor, the great Russian neuropsychologist Alexandr Luria. Goldberg's own research on the frontal lobes focused on the functional lateralization of the frontal lobes, the hierarchic organization of the frontal lobes, the role of the frontal lobes in dealing with cognitive novelty and ambiguity. Together with his former students, Goldberg coauthored several innovative paradigms to study and clinically assess the functions of the frontal lobes. Goldberg is a leading authority on the frontal lobes and he lectures on the subject worldwide.
In this workshop Elkhonon Goldberg will review some of the influential research on the frontal-lobe function and dysfunction, including his own.
Time: 8:00am – 6:00pm
Place: Park Lane Hotel, 36 Central Park South, New York
About the venue: Park Lane Hotel is located in the heart of Manhattan overlooking Central Park. It is a short walking distance from Carnegie Hall, Broadway, Museum of Modern Art, and some of the best restaurants in New York. It is easily accessible by public transportation and by car with ample garage space next to the hotel.
Fee: $195.00
Please leave your contact information and we will let you know when the workshop is available.